2018 | OriginalPaper | Buchkapitel
5. Conclusion: The Implications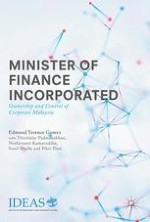 Erstes Kapitel lesen
Autoren: Edmund Terence Gomez, Thirshalar Padmanabhan, Norfaryanti Kamaruddin, Sunil Bhalla, Fikri Fisal
Verlag: Springer Singapore
Abstract
The main findings of this study revolve around a single key question: who owns corporate Malaysia today? The chapters have revealed a major transition that has occurred in Malaysia's political economy, namely, how corporate power has shifted from UMNO and well-connected businessmen to the government. Huge groups of GLICs have emerged, controlled by the government and dominating key sectors of the economy. UMNO members no longer figure as owners of leading publicly listed companies or as directors of government-owned enterprises. The GLICs and the listed companies under their control are now led by well-credentialed, highly competent professionals with no involvement in the political system. However, these professionals are ultimately responsible to the Minister of Finance who has significant control over the corporate sector through the GLICs and GLCs that come under his jurisdiction.
 The Ministry of Finance sits at the apex of a complex business group structure comprising its holding company, MoF Inc., as well as other GLICs, quoted GLCs and a huge number of unquoted private firms. MoF Inc. is evidently a super entity given its enormous influence over the corporate sector through its substantial ownership and control of the other GLICs and the financial sector, comprising Malaysia's leading commercial banks as well as development financial institutions. This business group structure encompasses multiple layers of publicly listed GLCs with links to a range of unlisted companies, augmenting their control over the economy. MoF Inc.'s vast network of business interactions constitutes only one part of the government's complex system of control over the corporate sector.
 The implications of these important findings on the corporate sector and on Malaysian politics are reviewed in this final chapter. One crucial concern is that, through this GLIC-led framework, politicians in power can intervene in the economy in distinct ways through different types of business organizations. The chapter reviews the current institutional framework to determine if sufficient checks and balances are in place to ensure that the GLICs and GLCs are not abused in order to serve vested political interests: this is a core concern given the numerous scandals involving firms linked to the government. However, what is also evident is that the leading publicly listed GLCs have been registering impressive turnovers and profits, are professionally managed and continue to remain among the top publicly listed companies. The chapter ends with an analysis of this paradox.