2019 | OriginalPaper | Buchkapitel
Conclusion: The Political Choices of Sub-state Actors and the Politics Surrounding U.S. Military Bases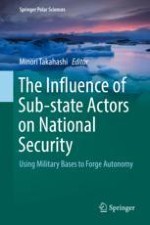 Erstes Kapitel lesen
Autor: Minori Takahashi
Abstract
The goal of this chapter is to integrate and sum up the discussions from previous chapters and thus offer new insights regarding the role of sub-state actors in the field of security by focusing on the following three correlations:
1.
We theoretically extrapolate how the policy choices of subnational actors affect the interaction between the US politics regarding its overseas military bases and the polities of the countries hosting them (The correlation between vulnerability and hold-up);
2.
We shed light on how the local voice manifests itself and how it functions in various political matters concerning US overseas military bases at the level of national security by examining the cases of Greenland, Okinawa and Olongapo (The correlation between autonomy and military bases), and
3.
We evaluate the relationship between the emergence of Cold-War-like power relations in the post-Cold War period, which are visible in the current Arctic security environment, and sub-state actors (The methodological correlation between deduction and induction).