2015 | OriginalPaper | Buchkapitel
13. Conclusion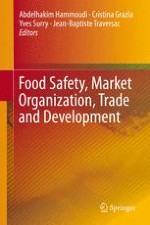 Erstes Kapitel lesen
Autoren: Abdelhakim Hammoudi, Cristina Grazia, Yves Surry, Jean Baptiste Traversac
Abstract
The role of standards as trade barriers is most often explained by a prohibitive increase in production and commercialisation costs for producers in developing countries (Henson and Loader 2001; Horton 1998). Moreover, these costs are increasing with the proliferation of standards, including private standards, characterized by non-harmonized compliance process and proper certification schemes (Chap.
3
). However, the compliance with quality standards may induce a diversification of export market and increase of the demand. To assess the impact of the standard on developing countries, it is necessary to assess the outcome of the arbitration between costs (additional) compliance (negative effects) and effects (potentially positive) changes of export demand in developing countries (Chap.
8
). On other hand, the capacity to comply with norms does not systematically depend on the requirement level of standards and associated costs. In practice, it may be facilitated, or impeded, by the type of regulations set by public authorities in developing countries or by the forms of supply chain organisation (Chaps.
5
and
8
). The supply chain structure, according to its level of integration or networking may significantly affect operators' capacity to comply with import market requirements. The supply chain structure may favour compliance through scale economies in the compliance process, more effective foodborne disease risk management via better coordination among agents, or an improvement of suppliers' bargaining power towards importers from the North.