2016 | OriginalPaper | Buchkapitel
5. Conclusions and Prognosis for Environmental Change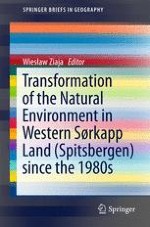 Erstes Kapitel lesen
Autoren: Wiesław Ziaja, Michał Węgrzyn, Maja Lisowska, Maria Olech, Piotr Osyczka
Abstract
The first and direct result of climate warming has been glacial recession, which stimulated an entire process of landscape (and seascape) changes along the eastern boundary between western Sørkapp Land (devoid of glaciers) and the glaciated peninsula interior. A completely new landscape has appeared there. Also fore-fields of glaciers have been indirectly influenced by the glaciers' retreat. Some sequences of non-glacial and non-postglacial coastline have been affected by an increase in the geomorphic activity of the sea due to a shorter sea-ice season. During the next few decades, the described trend of environmental-landscape transformation will continue unless the climate cools down. In the case of a progressive warming, the extensive tongues of big glaciers will first retreat and then disappear. The main result of that would be an expansion of non-glacial landscape, vegetation and animal life to the east, into the currently glaciated peninsula's interior. On the basis of repeated vegetation mapping, significant changes in composition and extent of several plant communities were documented. Decrease in species diversity, leading to a more uniform vegetation, has been observed mainly in dry habitats. In some cases boundaries between plant communities that were clear in the 1980s, have now vanished. Fruticose epigeic lichens, like
Flavocetraria nivalis
,
Cladonia rangiferina
, and other species of
Cladonia
have disappeared from the most part of the study area and their extent is now limited to steep rocky slopes. In some communities increase in abundance of
Salix polaris
was recorded. The main cause of vegetation changes in Sørkapp Land is the rapidly growing reindeer population in the area.