08.07.2021 | ORIGINAL ARTICLE | Ausgabe 7-8/2021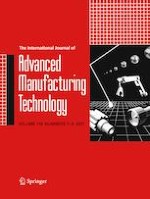 Concurrent improvement of surface roughness and residual stress of as-built and aged additively manufactured maraging steel post-processed by milling
Autoren:

Amanda Rossi de Oliveira, Erik Gustavo Del Conte
Wichtige Hinweise
Publisher's note
Springer Nature remains neutral with regard to jurisdictional claims in published maps and institutional affiliations.
Abstract
Laser Powder Bed Fusion (LPBF) technology enables the layerwise manufacturing of high-performance materials with different build orientations and shapes. However, even with the potential to improve primary mechanical properties and surface finishing depending on the process parameters, additional post-processing can be required to meet tight application requisites, mainly related to the surface roughness and residual stress. This study examined the concurrent effects of the build orientation (XYZ, XYZ-45, and YZX) on the LPBF manufacturing combined with the post-process steps of aging treatment (480 °C for 3 h) and milling with different cutting speeds and feed per tooth on the surface condition of maraging steel samples. Experimental tests followed by statistical analyses regarding the average roughness and residual stress allow identifying cause and effect mechanisms that affected the samples' surface finishing and residual stresses. The main changes were related to mechanical anisotropy and layers arrangement of the maraging steel produced by LPBF and milled with different sample conditions, build orientations, and cutting parameters. The best average roughness of 0.37 ± 0.09 μm could be achieved with
f
z
= 0.02 mm/tooth and
v
c
= 250 m/min on the aged XYZ sample that also had a surface compressive stress of -690 MPa. Moreover, as-built and aged XYZ-45 and YZX samples could change from a tensile behavior obtained with LPBF to a compressive one when milled with
f
z
= 0.02 mm/tooth due to concurrent effects of LPBF, heat treatment, and milling processes.