2019 | OriginalPaper | Buchkapitel
Concurrent Topological Optimisation: Optimisation of Two Components Sharing the Design Space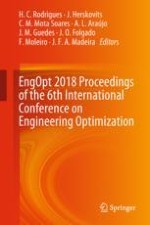 Erstes Kapitel lesen
Autoren: Federico Ballo, Massimiliano Gobbi, Giorgio Previati
Abstract
In this work, a novel topology optimization problem formulation is proposed.
The case of the concurrent topological optimization of two different components sharing a portion of the design space is considered. The design problem represents the relevant design situation in which more than one component has to be fitted in an enclosed space and each component has its own load carrying function.
The proposed algorithm assigns the shared space to one or the other body depending on the relative sensitivity of each element to the total compliance of the system. After each element has been assigned to one of the two design domains, the connectedness of the two domains is enforced. The volume fraction is enforced at system level, i.e. the volume fractions of the two domains can be different, but the total volume fraction complies with the set value. In this way, the available mass can be allocated in the most convenient way among the two bodies.
Some examples are presented to show the performance of the proposed algorithm. In one example, two structures for which the optimal solutions are known from the literature have been considered. The two design domains are overlapped as to allow the two optimal solutions to be found. The two optimal solutions are obtained by the concurrent topological optimization algorithm. Moreover, by imposing some reasonable, but not optimal, divisions of the design domain, structures with higher compliances have been obtained.
In the last part of the paper, the proposed algorithm is used to optimize a tool support arm made by two components and modeled by a non linear finite element model.