2017 | OriginalPaper | Buchkapitel
Conditional Local Distance Correlation for Manifold-Valued Data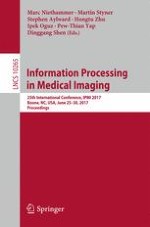 Erstes Kapitel lesen
Autoren: Wenliang Pan, Xueqin Wang, Canhong Wen, Martin Styner, Hongtu Zhu
Abstract
Manifold-valued data arises frequently in medical imaging, surface modeling, computational biology, and computer vision, among many others. The aim of this paper is to introduce a conditional local distance correlation measure for characterizing a nonlinear association between manifold-valued data, denoted by
X
, and a set of variables (e.g., diagnosis), denoted by
Y
, conditional on the other set of variables (e.g., gender and age), denoted by
Z
. Our nonlinear association measure is solely based on the distance of the space that
X
,
Y
, and
Z
are resided, avoiding both specifying any parametric distribution and link function and projecting data to local tangent planes. It can be easily extended to the case when both
X
and
Y
are manifold-valued data. We develop a computationally fast estimation procedure to calculate such nonlinear association measure. Moreover, we use a bootstrap method to determine its asymptotic distribution and
p
-value in order to test a key hypothesis of conditional independence. Simulation studies and a real data analysis are used to evaluate the finite sample properties of our methods.