2005 | OriginalPaper | Buchkapitel
Configurable Meta-search for Integrating Web Public Access Catalogs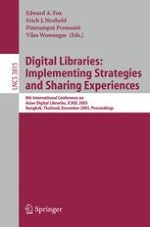 Erstes Kapitel lesen
Autoren: Hou Ieong Ho, Jieh Hsiang
Verlag: Springer Berlin Heidelberg
Enthalten in: Professional Book Archive
A Web Public Access Catalog (WebPAC) is an important feature of modern libraries. In this paper we propose a meta-search method to provide users with simultaneous access to WebPACs of different libraries. Our method gives a librarian full freedom to select WebPACs to be incorporated in the service but requires no programming effort from the librarian's side. At the core of our method is a meta-search engine which sends a query to incorporated WebPACs, receives results, and post-processes the query results into a uniform presentation format. To incorporate an existing WebPAC into our system, one needs to analyze the query interaction behavior between the WebPAC and the browser. This can be done by extracting the query parameters from a query and the subsequent query result web pages. We modeled and abstracted these interactions and defined the corresponding XML formats to capture the needed parameters from these web pages. The resulting XML pages will then be fed to the search engine which will automatically incorporate the designated WebPAC as part of its search.
The advantage of our method is that the search engine does not need to be modified when new WebPACs are added. When adding a new WebPAC, the librarian only needs to analyze a few web pages to decide the parameters. Even this step can mostly be done automatically. To illustrate the effectiveness of our method, we have built a system, called MetaCat, that has incorporated the WebPACs of 26 major libraries in Taiwan. MetaCat can be accessed at http://MetaCat.ntu.edu.tw.
This research is supported in part by the National Science Council of the Republic of China under grant numbers NSC-94-2422-H-002-008 and NSC-93-2213-E-002-039.