26.10.2019 | Foundations for Mastering Change | Ausgabe 6/2019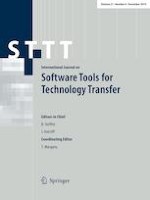 Configuration of inter-process communication with probabilistic model checking
Autoren:

Linda Herrmann, Martin Küttler, Tobias Stumpf, Christel Baier, Hermann Härtig, Sascha Klüppelholz
Wichtige Hinweise
The authors are supported by the DFG through the DFG Grant 389792660 as a part of
TRR 248
, the Cluster of Excellence EXC 2050/1 (CeTI, Project ID 390696704, as a part of Germany's Excellence Strategy), and the Research Training Groups QuantLA (GRK 1763) and RoSI (GRK 1907), and the DFG-Projects BA-1679/11-1, BA-1679/12-1, Asteroid (ER 168/24), and FFMK (HA 2461/10-2).
Publisher's Note
Springer Nature remains neutral with regard to jurisdictional claims in published maps and institutional affiliations.
Abstract
Ever-increasing bit flip rates caused by shrinking hardware tiles increase the demand for resilient systems. In particular, safety- and functionality-critical system parts need to be protected. Inter-process communication is one such critical part. Applying fault tolerance techniques often comes with a configuration problem, since real-world systems typically have tunable system parameters. These need to be configured with respect to certain optimality criterion. The paper addresses the parameter synthesis problem for inter-process communication protocols that are affected by bit flips. Tunable parameters are the probability of error detection and the expected time interval between system refresh. We provide a tool that automatically generates a model of bit-flip-prone inter-process communication for a given set of processes and their communication structure. The tool is used to exemplarily generate a model of a space probe. Parametric extensions of probabilistic model checking are applied to obtain rational functions for the availability of the space probe and other characteristics. We find a configuration setting that maximizes availability and investigates side effects for this configuration. The paper also compares exemplarily for the space probe model the most-standard probabilistic model checking methods (value iteration, interval iteration, and exact model checking) with respect to their time consumption and accuracy and reveals complexity concerns arising when evaluating the rational functions.