2018 | OriginalPaper | Buchkapitel
10. Confounding/Blocking in 2

k

Designs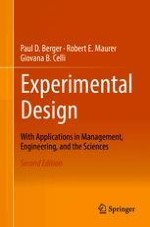 Erstes Kapitel lesen
Autoren: Paul D. Berger, Robert E. Maurer, Giovana B. Celli
Abstract
The topic of this chapter is useful in its own right, and absolutely essential to understanding the subject of fractional-factorial designs discussed in Chap.
11
. Imagine coming to a point in designing our experiment where we have settled on the factors and levels of each factor to be studied. Usually this will not be an exhaustive list of all the factors that might possibly influence the experimental response, but a bigger list would likely be prohibitive and, even then, not truly exhaustive. There are always factors that affect the response but that cannot be fully identified. Of course, if we are fortunate, these unidentified factors are not among the most influential (often the intuition of good process experts contributes to such "luck"). Ideally, we would like to have all of these other factors held constant during the performance of our experiment; unfortunately, this is not always possible. In this chapter, we discuss a potentially-powerful way to mitigate the consequences if we can't. We focus on 2
k
factorial designs; however, the concepts and reasoning involved apply to all experimental designs.