2007 | OriginalPaper | Buchkapitel
Congenital Anomalies in Bulgaria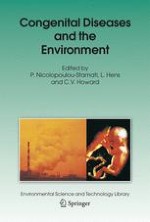 Erstes Kapitel lesen
Autoren: E. Terlemesian, S. Stoyanov
Verlag: Springer Netherlands
The paper presents data and analysis concerning congenital anomalies in Bulgaria. Assessment is based on statistical data reported in the National Statistical Institute Yearbook: Health Protection and the Sofia registry of congenital anomalies in the period 1996 – 1999. Forty subgroups of isolated congenital anomalies and congenital diseases, detectable at birth during in the first year of life, have been detected out of 34,124 pregnancies, registered during the period. The rates of live births, stillbirths and induced abortions due to anomalies, per 10,000 pregnancies, are selected as indicators. Results are compared with EUROCAT rates of cases per 10,000 births of 85 subgroups with congenital anomalies in the EUROCAT full member registers in the period 1996 – 2001. The analysis which is made by Simeonov and Dimitrov shows that only 2 per cent of the total incidence of congenital abnormalities has a purely environmental origin. Most of the cases have been attributed to multifactorial etiology. Comparison is made with the experience of the TIS in Jerusalem and the data reported in the frame of OTIS.
Trends of reduction in the total infant mortality rates and the mortality rates due to congenital anomalies and certain other conditions originating in the prenatal period 1990 – 2003 descised. It is shown that, in 2003, these two reasons could be ranked at the first two places among the causes of the infant's deaths with rates 260/100,000 live births and 386/100,000 live births respectively. Territorial distribution of infant mortality in 2003, caused by congenital anomalies and due to reasons originating in the prenatal period, is connected with the territorial distribution of some known teratogenic agents e.g. pesticides, dioxins, heavy metals, etc.
Increases in age of Bulgarian mothers at the birth of their age of the mother at the last delivery are associated with increasing rates of chromosomal anomalies.