01.10.2009 | Ausgabe 7/2009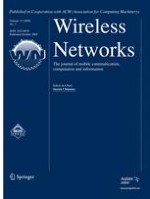 Connectivity properties of large-scale sensor networks
Zeitschrift:
Autoren:

Hossein Pishro-Nik, Kevin Chan, Faramarz Fekri
Abstract
In wireless sensor networks, both nodes and links are prone to failures. In this paper we study connectivity properties of large-scale wireless sensor networks and discuss their implicit effect on routing algorithms and network reliability. We assume a network model of
n
sensors which are distributed randomly over a field based on a given distribution function. The sensors may be unreliable with a probability distribution, which possibly depends on
n
and the location of sensors. Two active sensor nodes are connected with probability
p
e
(
n
) if they are within communication range of each other. We prove a general result relating unreliable sensor networks to reliable networks. We investigate different graph theoretic properties of sensor networks such as
k
-connectivity and the existence of the giant component. While connectivity (i.e.
k
= 1) insures that all nodes can communicate with each other,
k
-connectivity for
k
> 1 is required for multi-path routing. We analyze the average shortest path of the
k
paths from a node in the sensing field back to a base station. It is found that the lengths of these multiple paths in a
k
-connected network are all close to the shortest path. These results are shown through graph theoretical derivations and are also verified through simulations.