2011 | OriginalPaper | Buchkapitel
Consequences of a Stenosed Artery in an Arteriovenous Fistula on the Efficiency of the Hemodialysis Access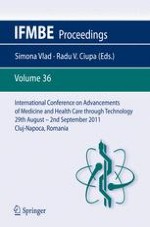 Erstes Kapitel lesen
Autoren: I. Decorato, Z. Kharboutly, C. Legallais, A. V. Salsac
Verlag: Springer Berlin Heidelberg
An arteriovenous fistula (AVF) is a surgical vessel connection between an artery and a vein. It is created in end stage renal disease to provide adequate blood access for hemodialysis. In the present study, the local hemodynamics is investigated in a patient-specific AVF using a computational fluid structure interaction (FSI) simulation. The fluid and solid governing equations are solved using ANSYS (ANSYS, Inc.).
We focus on an end-to-side AVF between the end of the cephalic vein and the brachial artery. The geometry of the vessel lumen is obtained from CT-scan angiography. The vessel wall is modeled as a monolayer of shell elements of uniform thickness, since the actual wall thickness cannot be obtained from medical images. We investigate the effect of the presence of a severe stenosis upstream of the anastomosis by comparing two different geometries: model 1 consists of the complete patient-specific AVF, presenting a stenosis inside the proximal brachial artery and an enlargement at the cephalic vein; model 2 is obtained from model 1 by substituting the stenosed artery with a straight cylinder. For both models, a physiological time-dependent velocity inlet profile and flow-dependent resistive pressure outlets are imposed as boundary conditions. The hyperelastic, 3
rd
-order Yeoh model is used as constitutive law to model the vessel wall.
The presence of the stenosis increases the mass flow through the cephalic vein by 9.6%, which could have a positive effect on the hemodialysis access in terms of flow rate. However, the stenosis causes an enlarged area of the vein subjected to low wall shear stresses and high oscillatory shear indices, which are risk factors for atherosclerotic plaque and neointima formation.