26.04.2017 | Original Paper | Ausgabe 10/2017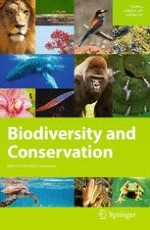 Consequences of anthropogenic disturbances on soil seed bank diversity and nurse shrub effect in a semiarid rangeland
Zeitschrift:
Autoren:

Cintia V. Leder, Guadalupe Peter, Flavia A. Funk, Daniel V. Peláez
Wichtige Hinweise
Communicated by Daniel Sanchez Mata.
Abstract
What is the effect of common land use histories on the diversity, richness, spatial distribution and abundance of the soil seed bank (SSB)? Does the effect change between different microsites under shrub canopy? To address these questions we selected seven sites with different grazing and fire histories in the Patagonian Monte desert. We took soil samples in seven microsites at different distances of the trunk along a windward/leeward transect through shrub patches to estimate the SSB of perennial grasses, shrubs and annuals. Shrubs SSB was scarce. The nurse shrub effect on perennial grass SSB was evident at sites with a low disturbance intensity (as sites without continuous grazing), and higher on the leeward side under the shrub canopy. High disturbance intensity (such as permanent grazing) promoted a decrease in perennial grass SSB and an increase in annuals SBB (especially non-native). Land use histories related to fire showed a moderated disturbance response (medium values for both groups). Differences between land use histories varied depending on the windward/leeward microsite from which the SSB was analysed. Our results suggest a nurse effect of the shrub patches on the spatial distribution and abundance of the SSB, but this effect decrease under continuous grazing. Fire seems to have a positive effect on perennial grass SSB. Nevertheless, fire characteristics must be controlled. Moreover, perennial grass SSB was almost depleted under continuous grazing, driving the grazed system towards a vulnerable state; and annual non-native species take advantage of this disturbance and dominate the SSB.