2021 | OriginalPaper | Buchkapitel
Conserving Energy in Compressed Air System: Practical Case Studies from Indian Industry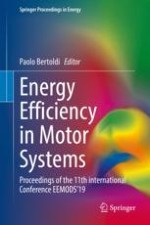 Erstes Kapitel lesen
Autoren: Padmanabh Nagarkar, Prosanto Pal
Abstract
India is the second largest market for air compressors, and the market is growing at a rapid pace. All reputed international compressor manufacturers have their presence in India. Air compressors are widely used by large, medium, and small scale industries. Most large industries usually get their compressed air system audited regularly to save energy. However, SMEs cannot afford to engage the services of energy auditors to identify energy-saving options in their compressed air system.
The authors have extensive experience of providing technical consultancy to SMEs on optimisation of their compressed air systems. SMEs typically use air compressors ranging between 20 and 300 hp. (15–224 kW approx.). Optimisation of compressed air system requires trained energy auditors and technical personnel. Our experience of working with SMEs shows that there is lot of confusion among the users about proper selection and best operating practices of air compressors.
Some of our experiences with regard to compressed air system optimisation among Indian SMEs are shared in the chapter. Our studies on screw compressors show that there are three major energy conservation opportunities in compressed air system, viz. leakages, unloaded power, and artificial demand. Out of these three options, leakage and unloaded power concepts, are relatively simple to quantify and correct through energy audit studies. Air leakages are very simple to locate using ultrasonic meters. Adoption of variable speed drives for under loaded air compressor will result in substantial energy savings.
However, the concept of artificial demand is more difficult in terms of acceptability and hence initiating corrective action. A higher compressor pressure causes the whole system to produce, consume, and waste more air than necessary. The authors have conducted several on-site capacity building programs for SMEs and built their capacities on what should be the minimum acceptable pressure and the pressure drop in the compressed air lines. A simple algorithm has been developed by the authors for correcting the receiver and pipeline sizing and reducing the artificial demand. This method works more economical than flow controllers.
The chapter discusses some of the conventional energy-saving methods such as plugging of air leakage and minimising unloaded power in compressed air systems. In addition, some of the new technological developments, such as permanent magnet motors and inlet cooling systems, are also discussed. A detailed case study of actual compressed air optimisation in an SME unit is also presented.