2015 | OriginalPaper | Buchkapitel
8. Conserving Tanzania's Wildlife: What is the Policy Problem?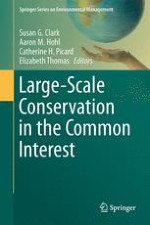 Erstes Kapitel lesen
Autor: Catherine H. Picard
Abstract
This chapter appraises the Selous Niassa Wildlife Corridor and Wildlife Management Areas in Tanzania as a model for large-scale conservation. This appraisal suggests that common interests around wildlife management in Tanzania have not yet been identified or secured. Three main challenges persist. First, there are profoundly differing estimations of what problems exist and how to solve them. Moreover, decision making is largely restricted to resolving technical problems such as poaching and habitat fragmentation; entirely overlooked are the governance and constitutive problems that drive these threats. Second, the social process is increasingly fragmented as evidenced by participants' limited understanding of each other's perspectives, myths, and value demands. Third, there are compounding weaknesses throughout the decision-making process, including restricted debate, insufficient authority and control, and inadequate evaluations. The chapter begins with a description of major trends, conditioning factors, and perceived problems that shape the management of Tanzania's wildlife. It then analyzes the governance and constitutive problems that underscore Tanzania's wildlife policies, including how the decision-making process has fallen short of the recommended standards. The chapter concludes with recommendations to improve the policy process of large-scale wildlife management in Tanzania.