05.09.2017 | Ausgabe 11/2017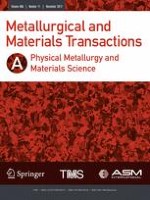 Constitutive Analysis and Hot Deformation Behavior of Fine-Grained Mg-Gd-Y-Zr Alloys
Zeitschrift:
Autoren:

R. Alizadeh, R. Mahmudi, O. A. Ruano, A. H. W. Ngan
Wichtige Hinweise
Manuscript submitted May 9, 2017.
Abstract
Mg-Gd-Y-Zr alloys are among the newly developed magnesium alloys with superior strength properties at elevated temperatures. Accordingly, the hot shear deformation behavior of fine-grained extruded Mg-9Gd-4Y-0.4Zr (GWK940), Mg-5Gd-4Y-0.4Zr (GWK540), and Mg-5Gd-0.4Zr (GK50) alloys was investigated using the localized shear punch testing (SPT) method. Shear punch tests were performed at 573 K, 623 K, 673 K, 723 K, and 773 K (300 °C, 350 °C, 400 °C, 450 °C, and 500 °C) under shear strain rates in the range of 6.7 × 10−3 to 6.7 × 10−2 s−1. The new fitting method of Rieiro, Carsi, and Ruano was used for direct calculation of the Garofalo constants. It was concluded that the Garofalo equation can be used satisfactorily for describing the deformation behavior of the alloys in the entire studied ranges of strain rates and temperatures. In addition, stability maps were obtained by calculations based on the Lyapunov criteria using the Garofalo constants. The predicted stability ranges of temperature and strain rate were similar for the studied alloys. At an intermediate strain rate of 0.05 s−1, the optimal temperature at which a stable region is expected was found to be 648 K to 673 K (375 °C to 400 °C) for all three materials. The most pronounced effect of the Gd and Y elements was to enhance the high-temperature strength of the alloys.