01.12.2013 | Ausgabe 12/2013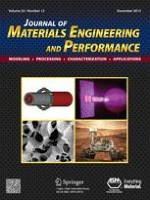 Constitutive Modeling of Dynamic Recrystallization Kinetics and Processing Maps of Solution and Aging FGH96 Superalloy
Zeitschrift:
Autoren:

Longfei Nie, Liwen Zhang, Zhi Zhu, Wei Xu
Abstract
The hot deformation behavior of solution and aging FGH96 superalloy were investigated in the deformation temperature range of 1000-1175 °C and strain rate range of 0.001-5.0/s on a Gleeble-1500 thermo-mechanical simulator. The results show that the true stress-strain curves are typical of the occurrence of dynamic recrystallization (DRX). The value of the activation energy and materials constants of
A
and
n
was obtained through the hyperbolic sine function between the peak stress and Zener-Hollomon parameter. Optical microscopy observations of the grains showed that Zener-Hollomon parameter affected the DRX grain size obviously. In addition, the constitutive equations and DRX kinetics model were also built. The processing maps with the strain of 0.3 and 0.6 were obtained on the basis of dynamic materials model. The results predicted that there existed instability regions at around 1050 °C when the strain rate exceeds 0.01/s.