02.05.2020 | Ausgabe 6/2020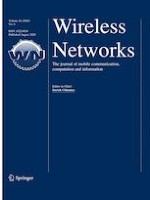 Constrained channel bonding based on maximum achievable throughput in WLANs
Zeitschrift:
Autoren:

Min Peng, Caihong Kai, Lusheng Wang
Wichtige Hinweise
This research was supported in part by the National Natural Science Foundation of China Nos. 61601164 and 61971176, and in part by the Fundamental Research Funds for the Central Universities of China under grant Nos. PA2020GDKC0008 and PA2019GDQT0012.
Publisher's Note
Springer Nature remains neutral with regard to jurisdictional claims in published maps and institutional affiliations.
Abstract
In Wireless Local Area Networks, channel bonding allows several basic channels to constitute a wide channel. The wide channel can increase potential throughput in a single Basic Service Set (BSS). However, channel contention among BSSs is more serious because the number of non-overlapping channels decreases. Therefore, the appropriate channel bandwidth should be chosen to improve the throughput of the whole network. In this paper, to control channel contention and improve throughput, we propose a channel bonding algorithm in which the channel bandwidth is constrained based on the achievable throughput analysis. At first, the channel contention relationship among BSSs is obtained according to the topology of the network. In each possible channel bonding and channel allocation scheme, the achievable throughput can be calculated according to the contention graph and the maximal clique algorithm. Then, the channel bonding scheme with the maximum achievable throughput can be selected. In the selected channel bonding scheme, each BSS uses a specific channel which consists of several basic channels, and these basic channels are candidate channels of constrained channel bonding in this BSS. Finally, constrained channel bonding will be performed in each BSS, and the combined wide channel can only be constituted by some or all of candidate basic channels. In this manner, channel contention among BSSs can be controlled. Simulation results show that the proposed constrained channel bonding achieves better performance than traditional channel bonding.