06.04.2020 | Original Research | Ausgabe 9/2020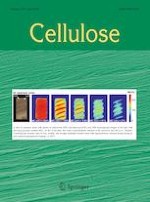 Constructing eco-friendly flame retardant coating on cotton fabrics by layer-by-layer self-assembly
Zeitschrift:
Autoren:

Wenjia Wang, Jia Guo, Xiaodong Liu, Hongfei Li, Jun Sun, Xiaoyu Gu, Julin Wang, Sheng Zhang, Wei Li
Wichtige Hinweise
Publisher's Note
Springer Nature remains neutral with regard to jurisdictional claims in published maps and institutional affiliations.
Abstract
A novel intumescent flame retardant (IFR) combination containing ammonium polyphosphate (APP)/
p
- aminobenzene sulfonic acid modified melamine (AM)/Chitosan (CS) was coated on cotton fabric surfaces via layer-by-layer self-assembly. The fire performance, softness and bio-safety of the treated fabric were evaluated. Fabrics prepared with 15 self-assembly layers of AM-CS/APP had a limiting oxygen index value of 31.5%. Analysis of the cone calorimetry data revealed that the treated fabrics significantly suppressed heat release and mass loss. It was demonstrated that cotton fabrics exhibited a peak heat release rate (pHRR) value of 162.2 kW/m
2
and total heat release (THR) value of 17.7 MJ/m
2
, while the treated fabrics showed pHRR of 98.6 kW/m
2
and THR of 7.1 MJ/m
2
, dropped significant decrease of 40% and 60%, respectively. Furthermore, our results showed that only 8.1 wt% residue remained for the control cotton sample vs. 24.1 wt% for the treated after cone test. Cytotoxicity evaluation indicated bio-safety of the AM modified was much better than that of APP. In addition, the APP/AM/CS coating had minimal negative impact on the mechanical property of the resulting material. These result suggest cotton fabrics treatment proposed in this study provides a feasible way to produce environmentally friendly flame retardant cotton.
Graphic abstract
×