12.06.2019 | Ausgabe 14/2019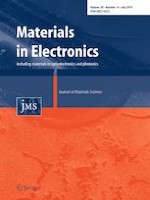 Constructing efficient quasi-solid-state alkaline Ni–Fe battery based on Ni–Mn hydroxides/Ni3S2 and FeOOH@RGO electrodes
Autoren:

Lin Ye, Liya Feng, Lijun Zhao, Xiaohong Yang, Yuguang Zhao, Zuoxing Guo, Xu Liu, Dongye He
Wichtige Hinweise
Electronic supplementary material
Lin Ye and Liya Feng have contributed equally to this work.
Publisher's Note
Springer Nature remains neutral with regard to jurisdictional claims in published maps and institutional affiliations.
Abstract
Alkaline Ni–Fe battery has attracted extensive attentions due to low cost, fast preparation and easy portability. However, the energy-storage capacity of Ni–Fe battery is greatly restricted by low active area and poor electronic conductivity, so it is highly desirable to design suitable electrode materials. In our work, Ni–Mn hydroxides/Ni3S2 (Ni2Mn1-S) nanohybrid with nanosheet structure was successfully fabricated via tuning the Mn content and reaction conditions. The orderly open structure, heterogeneous Mn atoms and even-distributed Ni3S2 phase not only generate more electrochemical active sites, but also significantly promote electronic conductivity, thus enhancing electrochemical performance of hybrid structure. Servered as supercapacitive electrode, the Ni2Mn1-S presents high capacitance (1386.8 C g−1 at 1 A g−1), excellent rate performance (71% retention at 30 A g−1) and suitable cycling stability (79% retention after 5000 cycles). After the coating of RGO nanosheet, the FeOOH@RGO electrode achieves high capacity performance (180 C g−1 at 1 A g−1) and rate performance (66% retention even at 10 A g−1). Furthermore, quasi-solid-state Ni–Fe battery was developed, utilizing a positive Ni2Mn1-S electrode and a negative FeOOH@RGO electrode. The hybrid device could achieve high energy densities (53.8 Wh kg−1 at 820 W kg−1 and 26.2 Wh kg−1 at 8200 W kg−1) and still maintain 75% capacitance after enduring 5000 cycles, which attributes to fast diffusion dynamics of Ni2Mn1-S and FeOOH@RGO electrodes.