01.03.2015 | Ausgabe 1/2015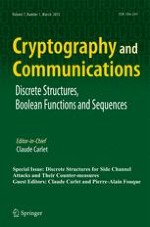 Construction of RSBFs with improved cryptographic properties to resist differential fault attack on grain family of stream ciphers
Zeitschrift:
Autoren:

Bodhisatwa Mazumdar, Debdeep Mukhopadhyay, Indranil Sengupta
Abstract
In recent literature, the
differential fault analysis
(DFA) on Grain family of stream ciphers has been shown to exploit the low
algebraic degree
of the derivative of the
nonlinear
combining function
h
of the stream cipher,
h
(
x
) ⊕
h
(
x
⊕
α
). The low
algebraic degree
allows the DFA adversary to create a linearly independent system of equations generated from the faulty and fault-free keystreams and use these equations to extract the initial state of the NFSR and LFSR stages in the stream cipher. In this paper, we propose a construction scheme for
rotation symmetric Boolean functions
(RSBFs)
h
(
x
) along with an orbit-tuple flip based iterative hill-climbing based construction algorithm for
balanced
RSBFs with high
nonlinearity
, low
absolute indicator value of global avalanche characteristics
(GAC), and high
algebraic degree
of
h
(
x
) ⊕
h
(
x
⊕
α
). The construction algorithm is scalable for higher input variables like
n
= 9,10,11 as shown in the paper. We find some interesting
autocorrelation spectra
and
Walsh spectra
properties for the class of RSBFs and then use them in the construction of RSBFs with improved cryptographic properties. We present the cryptographic properties of the RSBFs constructed for high input variables which can be used to make DFA attack harder using the existing techniques.