07.03.2019 | Ausgabe 4/2019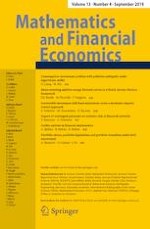 Consumption–investment problem with pathwise ambiguity under logarithmic utility
Zeitschrift:
Autoren:

Zongxia Liang, Ming Ma
Wichtige Hinweise
Publisher's Note
Springer Nature remains neutral with regard to jurisdictional claims in published maps and institutional affiliations.
Abstract
For an investor with intertemporal information about risky assets, we propose a set of càdlàg confidence paths to describe his ambiguity about drift, volatility, and jump of the risky assets. For each possible model, the differential characteristic of log-return processes is a stochastic process and almost surely takes value in the set of confidence paths. Under the framework of the robust consumption–investment problem for logarithmic utility, we prove that a worst-case confidence path exists and can generate a worst-case model and deduce an optimal strategy. A deterministic-to-stochastic paradigm is established and extends the classical martingale method to robust optimization for jump-diffusion model. In numerical analyses, we take a joint ambiguity with two-point jumps as an example to reveal the rule of choosing the worst-case model and the impact of the ambiguity on the optimal strategy.