2020 | OriginalPaper | Buchkapitel
11. Contextualisation of the Average Consumer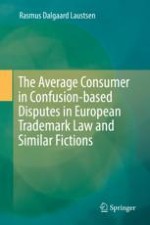 Erstes Kapitel lesen
Autor: Rasmus Dalgaard Laustsen
Abstract
This chapter analyses how European judiciaries in likelihood of confusion disputes as a combination of law and fact contextualise the average consumer to varying market realities. The Court of Justice considers contextualisation to be part of the factual assessment done by the General Court and the national courts, but the court through the average consumer provides a steer for this factual assessment.
The average consumer set out by the Court of Justice serves the important purpose of discounting from the average consumer the highly
inattentive
and the highly
attentive
part of the public. The contextualisation of the average consumer is analysed within different product markets (everyday consumer goods and specialised goods) and market places (offline and on the internet).
For General Court case law, this chapter concludes that for everyday consumer goods, the relevant public is most often the average consumer with an
average
level of attention, and in certain instances with a
lower
or
higher
level of attention. Further, that the relevant public may be specialised consumers or professionals with a high
level
of attention. This chapter concludes that the General Court uses inconsistent terminology for describing and applying the relevant public and its level of attention for comparable products. The UK judiciaries are more outspoken about contextualising the average consumer in line with the EU law approach, where this chapter concludes that generally, the Nordic judiciaries rarely explicitly contextualise the average consumer.
Although the Court of Justice has introduced the "average internet user," this average consumer is, based on current case law, substantially identical with (offline) the average consumer.
This chapter concludes that the Court of Justice through an "empirical rule" contextualises the average consumer itself by giving its view on how to assess the distinctiveness of certain untraditional marks based on an assumed perception of the average consumer, i.e. not leaving the contextualisation for the General Court and national courts.