2016 | OriginalPaper | Buchkapitel
26. Continuous Development of 3D DIC by Using Multi Camera Approach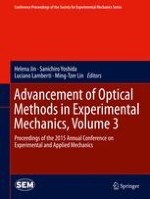 Erstes Kapitel lesen
Autoren: Thorsten Siebert, Karsten Splitthof, Marek Lomnitz
Abstract
The 3D DIC method is a well-established full-field measurement technique in experimental mechanics which is used for the characterization of e.g. displacements, vibrations and strains. The results are often employed in order to determine material properties, to validate numerical models and many more.
Nowadays, the application of the DIC technique moves from academic to industrial fields. In this interest, one needs to prove the DIC technique on real components. The conventional two-cameras 3D DIC inspection becomes then non-optimal since complex geometries imply hidden areas. An efficient way to overcome these limitations is to take advantage of the use of multi-cameras DIC system.
This publication describes the idea and principle of using the Cluster Approach for multi-cameras DIC systems. In order to illustrate the implications of this new technique, we present tensile/compression test measurements on an automotive carbon rim, on a transverse link and on a plastic sample.