08.07.2019 | Chemical routes to materials | Ausgabe 19/2019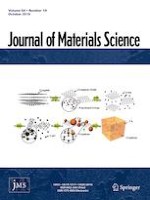 Continuous method for grafting CNTs on the surface of carbon fibers based on cobalt catalyst assisted by thiourea
Zeitschrift:
Autoren:

Shunsheng Su, Yanxiang Wang, Jianjie Qin, Chengguo Wang, Zhiqiang Yao, Ruijiao Lu, Qifen Wang
Wichtige Hinweise
Publisher's Note
Springer Nature remains neutral with regard to jurisdictional claims in published maps and institutional affiliations.
Abstract
This paper provides a continuous method for grafting carbon nanotubes (CNTs) on the surface of carbon fibers by chemical vapor deposition (CVD). The control of the morphology of CNTs/CFs can be achieved by adding thiourea to the cobalt nitrate precursor. The sulfur can increase the catalytic activity of the Co catalyst. Scanning electron microscopy reveals that a uniform layer of CNTs is grafted onto the surface of carbon fibers with the presence of thiourea. Through the single-filament tensile strength test, it can be found that the tensile strength of the fiber is increased by up to about 10% compared with the desized carbon fibers after the CVD process. And the reason for the enhancement is explored through X-ray diffraction. Raman spectroscopy reveals that the sample possesses the highest degree of graphitization at a thiourea concentration of 0.02 mol/L. It is found by high-resolution transmission electron microscopy that the growth mechanism of CNTs is tip growth mechanism, and the diameter of the CNTs is about 15 nm.