05.03.2018 | Review Article | Ausgabe 4/2018 Open Access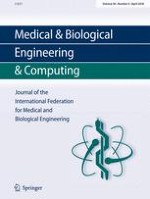 Continuous remote monitoring of COPD patients—justification and explanation of the requirements and a survey of the available technologies
Zeitschrift:
Autoren:

Ivan Tomasic, Nikica Tomasic, Roman Trobec, Miroslav Krpan, Tomislav Kelava
Wichtige Hinweise
Summary points
• Physiological parameters significant for COPD patients in remote settings are ECG, PaO2, PaCO2, spirometry, respiration rate, body temperature, blood pressure, and weight.
• Cardiovascular diseases are the most frequent comorbidities with COPD.
• Patch ECG monitors are a promising technology for ECG monitoring and can also provide respiration rate, which is very useful for COPD patients.
• Respiratory rate can also be obtained from pulse oximetry.
• Hypertension is a frequent comorbidity but can also be caused by medicaments, which means that it is important to measure blood pressure.
• Spirometry in acute situations is not very informative. It is used mainly in the diagnosis of COPD as well as in the assessment of its severity, progression, and prognosis. Peak expiratory flow meters are simpler and less expensive than full spirometers, but useful for COPD.
• Air pollution has been shown to be a major COPD risk factor, but smoking is first.
• A body temperature higher than 38.5 °C is one of the factors indicating severe exacerbation.
• As a consequence of respiratory failure either only PaO2 is decreased, or both PaO2 and PaCO2 are abnormal (low PaO2 and high PaCO2).
• PetCO2 is not a reliable estimate of the PaCO2 for COPD patients. PtcCO2 has recently become the preferred way of estimating PaCO2. PtcCO2 is continuous and noninvasive.
• Oxygen therapy can cause or increase hypercapnia.
• Early recognition of exacerbations and prompt treatment improves recovery, reduces the risk of hospitalization, and is associated with a better health-related quality of life. It is therefore important to detect the first signs and symptoms of exacerbations or to predict them.
• For the early detection or prediction of exacerbations, it is essential to use more advanced classification algorithms (e.g., random forest, support vector machine, logistic regression) than simple thresholding.
• For uncomplicated exacerbations, patients can be treated at home, and they prefer to be treated at home.
• Individual continuous monitoring enables prompt personalized treatments, which is recognized as a necessity for improved medical care, i.e., for personalized medicine.
Abstract
Remote patient monitoring should reduce mortality rates, improve care, and reduce costs. We present an overview of the available technologies for the remote monitoring of chronic obstructive pulmonary disease (COPD) patients, together with the most important medical information regarding COPD in a language that is adapted for engineers. Our aim is to bridge the gap between the technical and medical worlds and to facilitate and motivate future research in the field. We also present a justification, motivation, and explanation of how to monitor the most important parameters for COPD patients, together with pointers for the challenges that remain. Additionally, we propose and justify the importance of electrocardiograms (ECGs) and the arterial carbon dioxide partial pressure (PaCO2) as two crucial physiological parameters that have not been used so far to any great extent in the monitoring of COPD patients. We cover four possibilities for the remote monitoring of COPD patients: continuous monitoring during normal daily activities for the prediction and early detection of exacerbations and life-threatening events, monitoring during the home treatment of mild exacerbations, monitoring oxygen therapy applications, and monitoring exercise. We also present and discuss the current approaches to decision support at remote locations and list the normal and pathological values/ranges for all the relevant physiological parameters. The paper concludes with our insights into the future developments and remaining challenges for improvements to continuous remote monitoring systems.
×