2014 | OriginalPaper | Buchkapitel
12. Continuous-State Branching Processes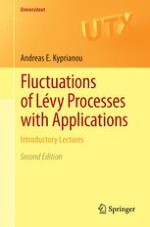 Erstes Kapitel lesen
Autor: Andreas E. Kyprianou
Verlag: Springer Berlin Heidelberg
Abstract
Our interest in continuous-state branching processes will be in exposing their intimate relationship with spectrally positive Lévy processes. A flavour for this has already been given in Chap. 1, where it was shown that a compound Poisson process killed on exiting (0,∞) can be time changed to obtain a continuous-time Bienaymé–Galton–Watson process, and vice versa. The analogue of this path transformation in greater generality consists of time changing the path of a spectrally positive Lévy process, killed on exiting (0,∞), to obtain a process equal in law to a Markov process which observes the so-called
branching property
(defined in more detail later) and vice versa. The latter process is what we refer to as the continuous-state branching process.
Having looked closely at the Lamperti transform, we shall give an account of a number of observations concerning the long-term behaviour, as well as conditioning on survival, of continuous-state branching processes. Thanks to some of the results in Chap.
8
, semi-explicit results can be obtained.