2015 | OriginalPaper | Buchkapitel
3. Contribution of Agriculture Sector to Climate Change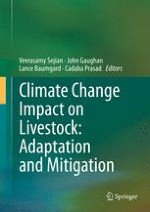 Erstes Kapitel lesen
Autoren: Sangeeta Lenka, N. K. Lenka, Veerasamy Sejian, M. Mohanty
Verlag: Springer India
Abstract
Agriculture sector is a potential contributor to the total green house gas (GHG) emission with a share of about 24 % (IPCC, AR5 to be released) of the total anthropogenic emission, and a growing global population means that agricultural production will remain high if food demands are to be met. At the same time, there is a huge carbon sink potential in this sector including land use, land-use change, and forestry sector. For over four decades, evidence has been growing that the accumulation of GHGs in the upper atmosphere is leading to changes in climate, particularly increases in temperature. Average global surface temperature increased by 0.6 ± 0.2 °C over the twentieth century and is projected to rise by 0.3–2.5 °C in the next 50 years and 1.4–5.8 °C in the next century (IPCC, Climate change: synthesis report; summary for policymakers. Available:
http://​www.​ipcc.​ch/​pdf/​assessment-report/​ar4/​syr/​ar4_​syr_​spm.​pdf
, 2007). In the recent report of IPCC AR5 (yet to be released), it has been observed that warming will continue beyond 2100 under all representative concentration pathways (RCP) scenarios except RCP 2.6. Temperature increase is likely to exceed 1.5 °C relative to 1850–1900 for all RCP scenarios except RCP 2.6. It is likely to exceed 2 °C for RCP 6.0 and RCP 8.5 (Pachauri, Conclusions of the IPCC working group I fifth assessment report, AR4, SREX and SRREN, Warsaw, 11 November 2013). Agriculture is a potential source and sink to GHGs in the atmosphere. It is a source for three primary GHGs: CO
2
, N
2
O, and CH
4
and sink for atmospheric CO
2
. The two broad anthropogenic sources of GHG emission from agriculture are the energy use in agriculture (manufacture and use of agricultural inputs and farm machinery) and the management of agricultural land. Mitigation methods to reduce emissions from this sector are thus required, along with identification and quantification of emission sources, so that the agricultural community can act and measure its progress. This chapter focuses on different sources of GHG emission from agriculture sector and their key mitigation strategies.