2019 | OriginalPaper | Buchkapitel
7. Contribution of the Stamp Model to Accident Analysis: Offloading Operations on a Floating Production Storage and Offloading (FPSO)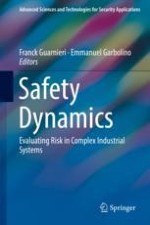 Erstes Kapitel lesen
Autoren: Dahlia Oueidat, Thibaut Eude, Franck Guarnieri
Abstract
The
System Theoretic Accident Model and Processes
(STAMP) is a new approach developed at MIT (Leveson N: Engineering a safer world: systems thinking applied to safety.
https://​mitpress.​mit.​edu/​sites/​default/​files/​titles/​free_​download/​9780262016629_​Engineering_​a_​Safer_​World.​pdf
, 2011) to analyse risks and prevent accidents in industries. STAMP draws upon theories that were developed in the mid-twentieth century in the fields of systems engineering and cybernetics. The approach provides the steps to follow to evaluate industrial system and to identify or design at the operational level the work tasks performed by its controlling systems (automated, or semi-automated with a human supervisor). The accident analyses approach proposed,in this article, differs from the paradigm normally used in the oil and gas installations in that it provides a comprehensive review of the industrial system. The analyses aims to inspect technical, human and organizational factors involved in an accident. In this chapter, the STAMP model is used to analyse the accident that happened on a
Floating Production Storage and Offloading
(FPSO) unit in the Gulf of Guinea.