2006 | OriginalPaper | Buchkapitel
Control of Thermal Stress in a Piezoelectric Composite Disk by a Stepwise Applied Electric Potential Distribution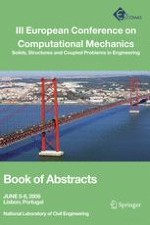 Erstes Kapitel lesen
Autoren: Fumihiro Ashida, Sei-ichiro Sakata, Kouhei Matsumoto
Verlag: Springer Netherlands
By utilizing the direct and converse piezoelectric effects inherent in piezoelectric materials, functions called "self-monitoring" and "self-control", which are essential for smart structures, can be achieved. For smart structures operating in thermal environments, materials must have heat resistance, high strength and high stiffness. Based on such a background, displacement control problems of layered piezoelectric composite plates have been discussed in the previous paper [
1
]. But, a problem of controlling thermal stress seems not to have been analyzed within the authors' knowledge. When a structure is subjected to a heating temperature beyond the allowable thermal load, the maximum thermal stress must be controlled for safety of the structure.
This paper deals with a stress control problem of a layered composite circular disk. The disk consists of a transversely isotropic structural layer onto which a piezoelectric layer of crystal class 6mm is perfectly bonded. Some electrodes are arranged concentrically on the top surface of the piezoelectric layer. The cylindrical boundary of the composite disk is taken to be thermally insulated, constrained against radial deformation, and electrically charge free. The top and bottom surfaces of the composite disk are considered to be stress-free. When a heating temperature distribution acts on the bottom surface of the composite disk and heat convection occurs over the top surface, we wish to control the maximum thermal stress induced in the structural layer by applying a stepwise electric potential distribution to the piezoelectric layer. First, by solving Fourier's heat conduction equations, the temperature distributions in the layers which satisfy the thermal boundary conditions are derived. Next, letting the magnitude of each stepwise applied electric potential be Heaviside's unit step function, the stresses in the structural layer as well as the stresses, electric potential and electric flux densities in the piezoelectric layer are obtained by means of the potential function methods. Based on the analytical results, the voltage applied to each electrode is determined by optimization using the BFGS quasi-Newton method so that the maximum thermal stress in the structural layer is minimized subject to constraints on the stresses in the piezoelectric layer.
Numerical results have been obtained for a composite disk consisting of a transversely isotropic CFRP layer and a cadmium selenide layer of crystal class 6mm.