01.04.2013 | Research Paper | Ausgabe 4/2013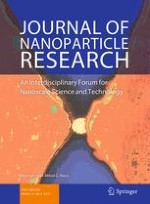 Controllable architecture of CdS and CuS by single-source precursor-mediated approach and their photocatalytic activity
Zeitschrift:
Autoren:

Ashish K. Sahoo, Suneel K. Srivastava
Wichtige Hinweise
Electronic supplementary material
The online version of this article (doi:
10.​1007/​s11051-013-1591-8
) contains supplementary material, which is available to authorized users.
Abstract
The present work deals with the preparation of hexagonal CdS and CuS by solvothermal decomposition of the morpholine-4-carbdithioate (MCDT) complexes of Cd and Cu in a water/THF mixture at 140–180 °C for 24 h and characterization. Scanning electron microscopy, field emission scanning electron microscopy and high resolution transmission electron microscopy show that CdS exhibits a hierarchical star- and lotus flower-like morphology in the presence of disodium salt of ethylenediamine tetraaceticacid and sodium dodecyl benzene sulphonate as soft templates at 140 and 160 °C, respectively. However, Cu complex of MCDT forms CuS nanoparticles in the temperature range of 140–180 °C. On the contrary, CdS nanoparticles and CuS microparticles are formed in the absence of any template under the identical experimental conditions. Raman studies show the characteristic peak of CdS and CuS, irrespective of their size and morphology. Finally, CdS and CuS of varying morphology have successfully been used as catalysts in UV photocatalytic decomposition of methylene blue dye. These findings show that CdS lotus-like microflowers are more effective catalysts than hierarchical stars, though the latter is found to have better reusability.
Graphical Abstract
A simple soft template-assisted and single complex source precursor-mediated solvothermal synthesis of CdS and CuS with a diverse set of morphology has been reported. In addition, the morphology and application in photocatalysis are also discussed.
×