11.09.2018 | Energy materials | Ausgabe 2/2019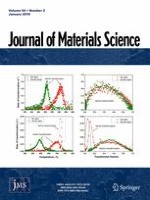 Controlled preparation of fiber-shaped 4-Br/Bi2O3 composite photocatalysts with excellent visible-light photocatalytic activity
Zeitschrift:
Autoren:

Dian Luo, Yong Kang
Abstract
In this paper, a series of Bi
2
O
3
modified by 4-bromothiophenol named 4-Br/Bi
2
O
3
composite photocatalysts were successfully synthesized via a facile two-step hydrothermal route. The obtained photocatalysts were characterized by XRD, TEM, SEM, SEM–EDS, XPS, UV–Vis DRS, PL and FT-IR, respectively. It could be observed that the pure Bi
2
O
3
exhibited a rod-shaped structure, while the micro-morphologies of 4-Br/Bi
2
O
3
composites displayed a uniform solid fiber-like structure, which could increase specific surface area and offer more photocatalytic active sites, ultimately enhancing the adsorption capacity and photocatalytic performance of photocatalysts. The 4-Br/Bi
2
O
3
composite with hydrothermal time for preparation being 12 h in the second-step hydrothermal process exhibited the best photocatalytic activity, over which (the dosage of 50 mg) about 99.4% of malachite green(MG) with the initial concentration of 35 mg L
−1
in solution was degraded after irradiation for 80 min. Its photocatalytic performance was tremendously improved compared with pure Bi
2
O
3
(only 4.4% decomposition of MG), and this is ascribed to a widening of the photoresponse range and an improved separation efficiency of the current carriers of the composite. The four cyclic reactions revealed its high stability and reusability. Moreover, the active species trapping experiments indicated that
·
O
2
−
and
h
+
were the main active species in the photocatalytic degradation of MG. A possible enhanced photocatalytic mechanism of 4-Br/Bi
2
O
3
composite photocatalysts was also proposed.