13.11.2017 | Ausgabe 3/2018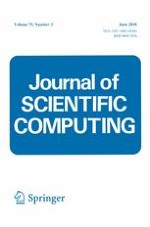 Convergence Analysis of Iterative Laplace Transform Methods for the Coupled PDEs from Regime-Switching Option Pricing
Zeitschrift:
Autoren:

Jingtang Ma, Zhiqiang Zhou
Wichtige Hinweise
The work was supported by National Natural Science Foundation of China (Grant No. 11671323) and Program for New Century Excellent Talents in University (Grant No. NCET-12-0922).
Abstract
This paper aims to analyze the convergence rates of the iterative Laplace transform methods for solving the coupled PDEs arising in the regime-switching option pricing. The so-called iterative Laplace transform methods are described as follows. The semi-discretization of the coupled PDEs with respect to the space variable using the finite difference methods (FDMs) gives the coupled ODE systems. The coupled ODE systems are solved by the Laplace transform methods among which an iteration algorithm is used in the computational process. Finally, the numerical contour integral method is used as the Laplace inversion to restore the solutions to the original coupled PDEs from the Laplace space. This Laplace approach is regarded as a better alternative to the traditional time-stepping method. The errors of the approach are caused by the FDM semi-discretization, the iteration algorithm and the Laplace inversion using the numerical contour integral. This paper provides the rigorous error analysis for the iterative Laplace transform methods by proving that the method has a second-order convergence rate in space and exponential-order convergence rate with respect to the number of the quadrature nodes for the Laplace inversion.