2014 | OriginalPaper | Buchkapitel
18. Convergence of Markov Chains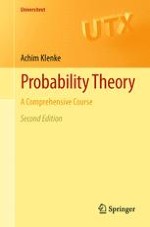 Erstes Kapitel lesen
Autor: Achim Klenke
Verlag: Springer London
Abstract
We consider a Markov chain
X
with invariant distribution
π
and investigate conditions under which the distribution of
X
n
converges to
π
as
n
→∞. Essentially it is necessary and sufficient that the state space of the chain cannot be decomposed into subspaces
that the chain does not leave,

or that are visited by the chain periodically; e.g., only for odd

n

or only for even

n

.
In the first case, the chain would be called
reducible
, and in the second case, it would be
periodic
.
We study periodicity of Markov chains in the first section. In the second section, we prove the convergence theorem. The third section is devoted to applications of the convergence theorem to computer simulations with the so-called Monte Carlo method. In the last section, we describe the speed of convergence to the equilibrium by means of the spectrum of the transition matrix.