2019 | OriginalPaper | Buchkapitel
1. Convergence Rate of Proximal Inertial Algorithms Associated with Moreau Envelopes of Convex Functions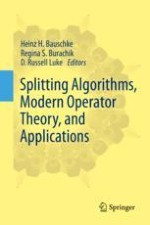 Autoren: Hedy Attouch, Juan Peypouquet
Abstract
In a Hilbert space setting
\({\mathcal H}\)
, we develop new inertial proximal-based algorithms that aim to rapidly minimize a convex lower-semicontinuous proper function
\(\varPhi : \mathcal H \rightarrow {\mathbb R} \cup \{+\infty \}\)
. The guiding idea is to use an accelerated proximal scheme where, at each step,
Φ
is replaced by its Moreau envelope, with varying approximation parameter. This leads to consider a Relaxed Inertial Proximal Algorithm (RIPA) with variable parameters which take into account the effects of inertia, relaxation, and approximation. (RIPA) was first introduced to solve general maximally monotone inclusions, in which case a judicious adjustment of the parameters makes it possible to obtain the convergence of the iterates towards the equilibria. In the case of convex minimization problems, convergence analysis of (RIPA) was initially addressed by Attouch and Cabot, based on its formulation as an inertial gradient method with varying potential functions. We propose a new approach to this algorithm, along with further developments, based on its formulation as a proximal algorithm associated with varying Moreau envelopes. For convenient choices of the parameters, we show the fast optimization property of the function values, with the order
o
(
k
−2
), and the weak convergence of the iterates. This is in line with the recent studies of Su-Boyd-Candès, Chambolle-Dossal, Attouch-Peypouquet. We study the impact of geometric assumptions on the convergence rates, and the stability of the results with respect to perturbations and errors. Finally, in the case of structured minimization problems
smooth + nonsmooth
, based on this approach, we introduce new proximal-gradient inertial algorithms for which similar convergence rates are shown.