03.07.2019 | Chemical routes to materials | Ausgabe 19/2019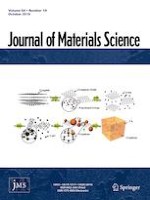 Conversion of residue biomass into value added carbon materials: utilisation of sugarcane bagasse and ionic liquids
Zeitschrift:
Autoren:

Kudzai Mugadza, Patrick G. Ndungu, Annegret Stark, Vincent O. Nyamori
Wichtige Hinweise
Electronic supplementary material
Publisher's Note
Springer Nature remains neutral with regard to jurisdictional claims in published maps and institutional affiliations.
Abstract
Presented herein is the nitrogen-doped multiwalled carbon nanotubes (N-MWCNTs) production from a residue, sugarcane bagasse, using 1-butyl-3-methylimidazolium chloride [C
4
MIM]Cl as the solvent and nitrogen source, and ferrocene as the catalyst source. N-MWCNTs were synthesised using the floating catalyst chemical vapour deposition method at 850 °C. The synthesised N-MWCNTs were characterised using transmission electron microscopy (TEM), scanning electron microscopy (SEM), energy-dispersive spectroscopy (EDS), thermogravimetric analysis (TGA), X-ray diffraction (XRD) spectroscopy, Fourier-transform infrared spectroscopy (FTIR), and Raman spectroscopy. Hollow tubular structures of N-MWCNTs were observed using TEM. These observations correlated morphology from SEM which showed spaghetti-like structures, and also EDS detected the presence of nitrogen. Raman spectroscopy indicated MWCNT bands, around 1350 and 1580 cm
−1
assigned to D-band and G-band due to defective and graphitic carbon vibrations, respectively. Also, XRD patterns showed typical N-MWCNT structures with a strong intensity peak at 2
θ
 = 26.4° which was indexed as the C
(002)
reflection of graphite. TGA showed an N-CNTs thermogram curve, with the main decomposition temperature around 590 °C. The study showed that N-MWCNTs were successfully synthesised from sugarcane bagasse. The study significantly establishes a strategy for utilisation and value addition of a residue which is abundant from sugar production mills.