05.10.2017 | Ausgabe 1-2/2017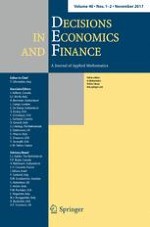 Convex incentives in financial markets: an agent-based analysis
Zeitschrift:
Autoren:

Annalisa Fabretti, Tommy Gärling, Stefano Herzel, Martin Holmen
Wichtige Hinweise
The authors wish to thank Michael Kirchler for many helpful comments and for providing the experimental data. We also thank Gunther Strobl, Buvaneshwaran Venugopal, and the seminar participants at the 2015 FMA Annual Meeting (Orlando), 2015 FMA European Meeting (Venice), XVI Workshop on Quantitative Finance (Parma 2015), XXIII International Rome Conference on Money, Banking and Finance (Rome 2014), Artificial Economics Conference (Porto 2015) for helpful comments on earlier versions of the paper. Financial support by VINNOVA (Grant 2010-02449 Gärling and Holmen) and Swedish Research Council (Grant 2015-01713 Gärling, Herzel, and Holmen) is gratefully acknowledged.
Abstract
We investigate whether convex incentive contracts are a source of instability of financial markets as indicated by the results of a continuous double-auction asset market experiment performed by Holmen et al. (J Econ Dyn Control 40:179–194,
2014
). We develop a model to replicate the setting of the experiment and perform an agent-based simulation where agents have linear or convex incentives. Extending the simulation by varying features of actual asset markets that were not studied in the experiment, our main results show that increasing the number of convex incentive contracts increases prices and volatility and decreases market liquidity, measured both as bid–ask spreads and volumes. We also observe that the influence of risk aversion on traders' decisions decreases when there are convex contracts and that increasing the differences in initial wealth among the traders has similar effects as increasing number of convex incentive contracts.