01.01.2015 | Ausgabe 1/2015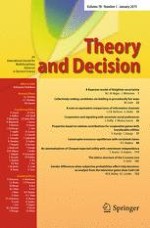 Cooperation and signaling with uncertain social preferences
Zeitschrift:
Autoren:

John Duffy, Félix Muñoz-García
Wichtige Hinweise
We thank the editor and six referees for helpful comments and suggestions on an earlier draft of this paper.
Abstract
This paper investigates behavior in finitely repeated simultaneous and sequential-move prisoner's dilemma games when there is one-sided incomplete information and signaling about players' concerns for fairness, specifically, their preferences regarding "inequity aversion." In this environment, we show that only a pooling equilibrium can be sustained, in which a player type who is unconcerned about fairness initially cooperates in order to disguise himself as a player type who is concerned about fairness. This disguising strategy induces the uninformed player to cooperate in all periods of the repeated game, including the final period, at which point the player type who is unconcerned about fairness takes the opportunity to defect, i.e., he "backstabs" the uninformed player. Despite such last-minute defection, our results show that the introduction of incomplete information can actually result in a Pareto improvement under certain conditions. We connect the predictions of this "backstabbing" equilibrium with the frequently observed decline in cooperative behavior in the final period of finitely repeated experimental games.