2013 | OriginalPaper | Buchkapitel
19. Cooperation or Conflict in the New Arctic? Too Simple of a Dichotomy!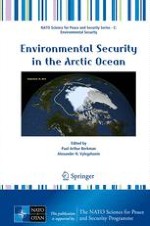 Erstes Kapitel lesen
Autor: Rob Huebert
Verlag: Springer Netherlands
Abstract
Throughout the 1990s the Arctic had transformed into a region of peace and cooperation from being a zone of conflict and competition throughout the Cold War. However, the early 2000s new developments have begun to complicate the relationships between the Arctic states. Scientists and Northern Peoples began to discover that the Arctic was warming and the ice was melting. Arctic maritime boundaries were redrawn as the result of an international treaty. In addition; a growing number of resources were discovered in the region. As a result of these changes, debate emerged about the possibility of conflict in the Arctic. New security realities suggest that the Arctic could become a zone of security and military activity, rather than remaining a region of peace and cooperation. Ultimately, the Arctic Ocean is increasingly becoming an ocean like any other ocean. It will increasingly be used like all other oceans. Thus, it will increasingly see an increase of activities that may involve both cooperation and conflict. This paper will examine this increasingly complex Arctic security environment. While leaders of the arctic nations, (as well as a number of non-arctic) have issued statements promising peace and cooperation in the region, it is telling that many of the Arctic states are allocating substantial funds to improve their Arctic combat capabilities. Although currently there are no obvious flashpoints in the region, the willingness of these states to spend suggests that they are beginning to worry that the region will not remain an era of cooperation forever. But the question remains as to what
will be
the future nature of the region.