01.06.2019 | Original Article | Ausgabe 11/2019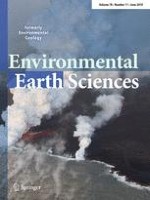 Cooperative inversion of magnetotelluric and seismic data on Shurab diapirs in Central Iran
Zeitschrift:
Autoren:

M. Moradi, B. Oskooi, P. Pushkarev, M. Smirnov, H. Esmaeili Oghaz
Wichtige Hinweise
Publisher's Note
Springer Nature remains neutral with regard to jurisdictional claims in published maps and institutional affiliations.
Abstract
Using diapirs as liquid or gas storage structures has increased because salt formations are considered to be extremely impermeable and non-reactive. The process of delineating the diapirs' structures ends in lots of challenges due to their geological complexity. Therefore, the integration of different geophysical methods seems to be necessary to cover different physical characteristics of the diapirs. Shurab diapirs located at the NW of Kashan in Qom basin of Central Iran have been considered as candidates for the first natural gas storages in Iran. A previous 2D seismic survey across the diapir No. 4 of Shurab could not resolve the diapir structure properly and some ambiguities left unresolved. The main goal of this paper is to resolve the structure of diapir No. 4 by employing a cooperative inversion of the seismic and magnetotelluric (MT) data and a comparison with the joint inversion of transverse electric (TE) and transverse magnetic (TM) modes of the MT data. Both inversion schemes show the salt and sedimentary sequences of the stratigraphy of the Qom basin. The sequences of formations from the surface to depth are classified as upper red formation (URF), Qom formation (QF) and lower red formation (LRF). The results also show that the salt body has originated from the LRF. It is worthwhile to mention that the results from the cooperative inversion provide more details especially on the flanks and overhangs of the diapir No. 4. In addition, we have come to the conclusion that the right lateral strike-slip fault system is the most responsible phenomenon for the development of the diapirs in the survey area and the Sen–Sen fault plays a basic role as an elevator to pushing the salt up. The results are in good agreements with the resistivity and density logs of the boreholes. Moreover, the information from the geology, the cooperative inversion results on diapir No. 4, and the coincidence of the path of the Sen–Sen fault with the outcrops of the diapirs No. 1, 3 and 4 obviously provide that the tectonic scenario of the existence for diapir No. 4 could be appointed to the diapirs No. 1 and 3 equally. Another probable consequence would be the under surface continuation of the salt bodies all along the Sen–Sen fault, the verification of which requires regional MT surveys in a regular grid.