2014 | OriginalPaper | Buchkapitel
Coordinating Production Improvement in International Production Networks: What's New?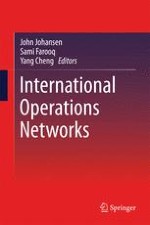 Erstes Kapitel lesen
Autor: Torbjørn H. Netland
Verlag: Springer London
Abstract
How can a multinational firm simultaneously improve the productivity of all its factories? A popular answer is to develop and deploy multi-plant production improvement programmes. Inspired by the sustained success of the Toyota Production System, many companies develop their own company-specific production systems (XPS) and implement them in their dispersed networks of plants. This paper explores what is new in how multinational companies coordinate the improvement of operations on a corporate level. A multiple-case method is used to investigate the production improvement programmes of four Scandinavian multinationals: Elkem, Hydro, Jotun and Volvo. It is suggested that an XPS differs from how companies traditionally have organised improvements in production in three ways: First, it is a lasting strategic programme and not a project. Second, it is tailored to the specific characteristics of the company. Third, it creates a common corporate language for production improvement in all parts of an organisation and in all corners of the world, enabling an easier transfer of practices and learning among plants in the network. These characteristics offer several implications for practice, especially for multinational firms that have yet to start coordinating production improvement in their networks of plants.