2017 | OriginalPaper | Buchkapitel
2. Copper and Coal Resources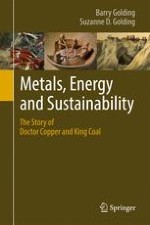 Erstes Kapitel lesen
Autoren: Barry Golding, Suzanne D. Golding
Abstract
Copper deposits occur in rocks of all ages and are formed as a result of geological processes that concentrated copper initially dispersed through large volumes of magma or rock. The majority of copper deposits were created by hydrothermal processes when metal sulfides were precipitated from hot waters in fractures and permeable rocks in the subsurface and at seafloor hydrothermal vents . Copper minerals can also crystallise in magma chambers or form as a result of secondary enrichment processes when primary copper deposits are weathered. Porphyry copper and associated skarn, vein and replacement deposits are the most important type of copper deposits accounting for some 60% of current world copper production. Sediment-hosted stratiform copper deposits in sedimentary basins account for some 20% of historic world copper production and were some of the earliest copper ores mined. Volcanic-hosted massive sulfide deposits occur in submarine volcanic rocks and are observed forming today at seafloor hydrothermal vents. Magmatic nickel-copper sulfide deposits in igneous rocks have a very different origin than the hydrothermal copper deposits that dominate current and historic world copper production. This type of deposit forms when mafic and ultramafic magmas separate a metal-sulfide magma that sinks to the bottom of the magma chamber or flow conduit.
Copper sulfide orebodies exposed at the surface are subject to weathering processes and typically show a progression from an iron-rich cap through leached rock to oxidised ore that contains copper minerals such as malachite , azurite , cuprite and chrysocolla. Copper liberated from the breakdown of sulfide minerals may also be precipitated as native copper and secondary sulfides such as covellite and chalcocite in the vicinity of the water table. The most common copper minerals in primary ores are chalcopyrite , bornite and tetrahedrite-tennantite . The earliest metalsmiths exploited near surface deposits of copper oxide and carbonate minerals, which were easier to mine and not as difficult to smelt as the underlying sulfide ores.
Coal is a combustible sedimentary rock composed of the altered remains of plants that accumulated in vast swamps and peat bogs. Increasing temperature and pressure as a result of gradual burial beneath overlying sediments subsequently transformed the plant remains into coal. Significant coal formation first occurred some 360 million years ago during the Carboniferous Period . Coal varies greatly in its physical and chemical properties because coal type and rank are independent variables that reflect depositional environment and coalification history, respectively. Humic coals are the most common coal type that form largely from woody plant remains. Sapropelic coals are less common and dominated by non-woody plant materials. Coalification is the process that produces coals of different rank, with higher rank coals having a higher carbon content and higher calorific value than low rank coals.