21.07.2021 | Original Research Article | Ausgabe 10/2021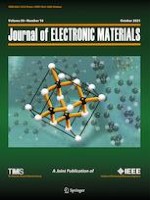 Copper-Doped ZnO Thin Films Deposited by Spray Pyrolysis: Effect of Water Content in Starting Solution on Methylene Blue Degradation by Photocatalysis
Zeitschrift:
Autoren:

T. V. K. Karthik, A. Maldonado, M. de la L. Olvera, A. G. Hernández, J. Vega-Pérez, H. Gómez-Pozos
Wichtige Hinweise
Publisher's Note
Springer Nature remains neutral with regard to jurisdictional claims in published maps and institutional affiliations.
Abstract
Copper-doped zinc oxide (ZnO:Cu) thin films were deposited by an ultrasonic spray pyrolysis technique on glass substrates. Doping concentration was maintained at 3 at %, and the deposition temperature was 450°C. The water content in the starting solution was varied in order to study its effect on the degradation of methylene blue (MB) dye by a photocatalytic process. X-ray diffraction patterns confirm the ZnO wurtzite structure and scanning electron microscopy analysis shows morphologies with different types of grains with average sizes varying from 90 to 300 nm. All the films achieved a maximum MB degradation of about 74% for a UV light exposition time of 180 min. However, the degradation behavior with respect to UV exposition time is different for each film. Two different degradation rates (0–90 min and 120–180 min exposure times, respectively) were performed for all ZnO films, and their photocatalytic response is related to the obtained surface morphology, which is explicated in this work. The films deposited with 80% water content in the starting solution are more promising for MB degradation when the UV exposure times are longer than 180 min.