2018 | OriginalPaper | Buchkapitel
Copper Rotor Technology for High Efficiency Motors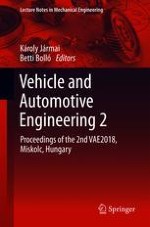 Erstes Kapitel lesen
Autoren: András Bárdos, Csaba Walczer, Zoltán Kéri, Imre Selmeczi
Abstract
The asynchronous motor technology offers an easy solution for the e-traction. Two types of induction motor could be differentiated according to the used squirreled cage materiel, namely aluminium and copper. The copper rotor motor is being developed by many OEMs as a premium solution. The economical way to produce rotors for induction motors is the casting, independent of the applied squirrel cage material. High pressure die casting is the casting process attaining the highest productivity. The cast parts are near net shaped and often are they used unmachined in their as-cast condition.
The actual industrial demands, due to the used very high motor rpm, require parts with improved physical properties, i.e. high tensile strength with good electrical conductivity in very narrow slots. Just only the pressure die casting technology is ready to fulfil the mentioned requirements.
In the case of copper rotor, two manufacturing technologies are still in the race, namely the fabricated and the cast squirrel cage. Just only with the casting technology is possible to fill the newly developed very narrow rotor slots. Today it is possible to cast 1.3 mm thin slots with a stack length of 200 mm.
At present, the Breuckmann group is developing in Hungary together with the University of Miskolc and Öntögepszerviz Kft. a casting system and a manufacturing cell for large-volume production of rotors with high process reliability. In the foreseeable future, the company will offer economically advantageous solutions for the industrial production of rotors for asynchronous motors.