2014 | OriginalPaper | Buchkapitel
2. Corporate Governance in Greece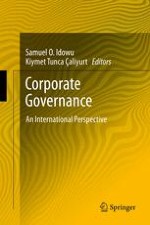 Erstes Kapitel lesen
Autor: Andreas G. Koutoupis
Verlag: Springer Berlin Heidelberg
Abstract
The era of huge profits has gone for most businesses therefore companies nowadays should not waste resources. Within this context, the adoption of effective corporate governance codes is not a luxury, but a challenge and necessity. Corporate governance and internal audit functions within Greek enterprises are imposed by the Greek laws for publicly listed enterprises. In this paper, we examine the current status of the implied corporate governance code in Greece compared with those of South Africa (King Report) and United Kingdom (Combined Code). Both codes are considered as advanced to issues related to corporate governance and internal controls.
The first edition of King Code was published in 1994. The novelty of the corporate governance of South Africa was the issues of sustainable development. In contrast with other editions of King Report, King III Report is obligatory for all the companies of South Africa. The United Kingdom is a country with a free market economic system, which does not wish intervention by the state. The Combined Code is a predominant corporate governance code in the UK as has adopted many provisions from the previous UK corporate codes. The Financial Reporting Council (FRC) is now responsible to update the Combined Corporate Code.
After analyzing the relevant literature review, as well as the details of the codes we are analyzing whether any provisions of the above corporate codes could be implemented in the Greek publicly listed enterprises. The importance of the provisions of the international governance codes is then evaluated by members of the boards of directors and the relevant audit committees, as well as Internal and External Auditors on a small sample basis.
Specifically, our research is based on a case study analysis of six publicly listed enterprises. Three of them are traded in the high capitalization index of the Athens Stock Exchange, while the remaining three are traded in the medium – low capitalization index. Our main research objective is to examine the extent of international corporate governance codes impact in the local laws and regulations, as well as adopted best practices. Also, our secondary research objective is to evaluate the extent of the impact of corporate governance best practices among large and medium-low size publicly listed enterprises. Each selected enterprise represents a different industry.