2014 | OriginalPaper | Buchkapitel
5. Corporate Governance in Italian Listed Companies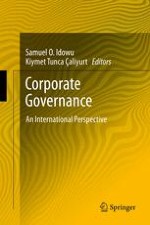 Erstes Kapitel lesen
Autoren: Giuseppe D'Onza, Giulio Greco, Silvia Ferramosca
Verlag: Springer Berlin Heidelberg
Abstract
In the past few decades a growing number of research studies have investigated the effect that insider ownership has on other corporate governance variables like the risk of expropriation for the minor shareholders, the demand for outside directors, etc. An increasing number of studies have analyzed the relationship between insider ownership and corporate performance in Anglo-Saxon countries, Continental Europe and emerging economies.
Regarding Italy, previous studies on corporate governance have highlighted that a listed company featured by concentrated ownership is likely to have a high incidence of insider shareholders representation on the board. This context might enhance an agency conflicts between large controlling shareholders and other stakeholders like minority shareholders and other outside investors. In this case the presence of an adequate number of non executive and independent directors as well as a functioning board's committees appear to be fundamental to counterbalancing the power exercised by owner-managers (or by managers-owner) and reduce the risks of private benefits exploitation. The recent changes in Italian normative requirements goes in this direction and recommend the introduction of mechanisms like the presence of independent directors, the CEO duality, the audit and remuneration committee that are not in line with the traditional corporate governance systems of Italian company but might reinforce the level of protection for outside stakeholders.
Basing on the aforementioned considerations, the researchers intend to analyze if and how Italian listed companies have changed their governance model to incorporate the new corporate governance rules. A specific focus regards the interaction of insider owners and outsider directors that seem to be a critical factor for the effectiveness of the corporate governance system in Italian context where lots of listed companies are controlled by a family/individual.
The theoretical part of the research analyzes the institutional context in which Italian listed companies operate and how it has changed in the last decade and the main research streams that have investigated the interaction between the inside ownership and the outsider directors.
The empirical part of the research is based on the analysis of the data collected through an empirical survey of companies listed to Milan Stock Exchange. A total of 145 corporate governance reports (corresponding to about 60 % of the total non-financial listed companies) issued in the period 2006–2010 has been investigated.
Some features observed like ownership structure, insider ownership remained the same over the period analyzed while other variables like the percentage of outside shareholders (like hedge funds), the proportion of independent directors, the number of the audit committee meetings changed noticeable.
Overall, the results show that the increasing of monitoring mechanism (like a high proportion of independent directors) during the period observed could contribute to reduce the risk of insider opportunistic behaviour.