2017 | OriginalPaper | Buchkapitel
4. Corporate Liberalism and Video Producers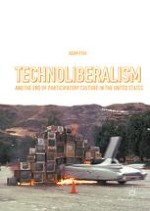 Erstes Kapitel lesen
Autor: Adam Fish
Abstract
Proformation is a portmanteau of
pro
duction/re
formation
––technological and political action for public access to the means of production on information infrastructures, be they satellite television systems or the internet. Proformers produce information for those reformed infrastructures, be it television programming or internet content. Proformations are also political. The term addresses the hybrid culture of information reform and information production at the interface of infrastructural praxis and communications rights. Proformers believe that the ability to access information infrastructures is a human right (Sithigh,
Routledge Handbook of Media Law
, 2012). It is a project for "media democratization" (Hackett and Carroll,
Remaking Media: The Struggle to Democratize Public Communication
, 2006; Klinenberg,
Fighting for Air: The Battle to Control America's Media
, 2007; MacKinnon,
Consent of the Networked: The Worldwide Struggle for Internet Freedom
, 2012).