17.06.2015 | Ausgabe 3/2016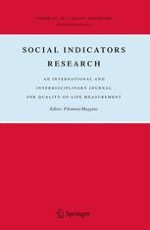 Correction for Measurement Errors in Survey Research: Necessary and Possible
Zeitschrift:
Autoren:

Willem E. Saris, Melanie Revilla
Abstract
Survey research is the most frequently used data collection method in many disciplines. Nearly, everybody agrees that such data contain serious measurement errors. However, only few researchers try to correct for them. If the measurement errors in the variables vary, the comparison of the sizes of effects of these variables on each other will be wrong. If the sizes of the measurement errors are different across countries, cross-national comparisons of relationships between variables cannot be made. There is ample evidence for these differences in measurement errors across variables, methods and countries (Saris and Gallhofer in Design, evaluation and analysis of questionnaires for survey. Wiley, Hoboken,
2007
; Oberski in Measurement errors in comparative surveys. PhD thesis, University of Tilburg,
2011
). Therefore, correction for measurement errors is essential for the social sciences. The correction for measurement errors can be made in a simple way, but it requires that the sizes of the error variances are known for all observed variables. Many experiments are carried out to determine the quality of questions. The relationship between the quality and the characteristics of the questions has been studied. Because this relationship is rather strong, one can also predict the quality of new questions. A program SQP has been developed to predict the quality of questions. Using this program, the quality of the questions (complement of error variance) can be obtained for nearly all questions measuring subjective concepts. For objective variables, other research needs to be used (e.g., Alwin in Margins of error: a study of reliability in survey measurement. Wiley, Hoboken,
2007
). Using these two sources of information, making correction for measurement error in survey research is possible. We illustrate here that correction for measurement errors can and should be performed.