01.08.2014 | Research Paper | Ausgabe 8/2014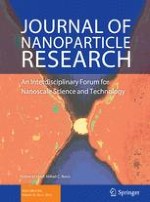 Correlated room temperature ferromagnetism and photoluminescence in Al-doped SnO2 nanoparticles
Zeitschrift:
Autoren:

Jianchun Wang, Wei Zhou, Ping Wu
Abstract
The correlated room temperature ferromagnetism and photoluminescence were investigated in Al-doped SnO
2
nanoparticles (about 50 nm) synthesized by the sol-gel method. X-ray diffraction and selected area electron diffraction results show that the Sn
1−

x
Al
x
O
2
samples possess typical rutile structure and have no other impurity phases with Al fractions of up to 8 at.%. The optical bandgap energies decrease, while the Urbach energies increase with Al concentration. The ferromagnetic signature was found to be significantly enhanced after Al doping, with the saturation magnetization reaching a maximum of 7.3 × 10
−3
emu/g in Sn
0.92
Al
0.08
O
2
sample. The photoluminescence studies clearly indicated the presence of a large concentration of singly ionized oxygen vacancies in the pure and Al-doped SnO
2
nanoparticles. An interesting correlation between the saturation magnetization and green–yellow luminescence intensity with the increase of Al doping has suggested that the observed ferromagnetic ordering of the Sn
1−

x
Al
x
O
2
nanoparticles is related to the singly ionized oxygen vacancies.